[Update: Oct 9th 2016]
Officially retired from creating. Thanks for your support over all these years.
[Update: Jun 13th 2016]
The Fighter: Gold and Black workout outfits for male and female avatars
Give them a try! Bundles available in my shop.
[Update: Jun 7th 2016]
I'm currently working on 2 matching outfits as fast as my free time allows me.
Complete male outfit is already available on my catalog.
Official release will be as soon as they both are ready
Give it a try! :D
[Update: May 24th 2016]
NEW Badge: 80s - 90s Memories



Available for auto-grant!
About Me Section
Things you should know about me:
· Don't be shy, don't hesitate to send me a message. Maybe we could find things in common. I don't accept random friend requests either.
· I don't give any free stuff, so don't even bother beg for it. If I give anything free for any reason, it's because I want to.
· If you read in the Requests section that those are closed, that means CLOSED, what doesn't mean "I'm going to try to ask him anyway".
· I don't sell any of my textures or meshes in any place, way or form. If you see my work in someone else's catalog, please let me know.
----------
Said this, I'm gonna talk a little about myself, even if I'm not good at it.
I'm from Spain. I define myself as a quiet, shy and sincere person. I spend the most of my time on IMVU creating, I started as a IMVU developer in the end of 2009, making stuff for myself that I couldn't find on catalog. And now I'm a Tier 7 developer... whoa! Time goes fast :D I'm most grateful for everything I reached in here, everything I've learned about digital art and the awesome people I've met. You rock guys!
I don't socialize too much in here, despite I like to meet new people and make new friends when my free time allows me to do it.
I love music (mostly metal, industrial, and trance), playing videogames, drama/suspense movies, pizza and cats.
Requests Section
Requests are CLOSED until further notice.

-------------------------------
Click in the banner below to visit my catalog.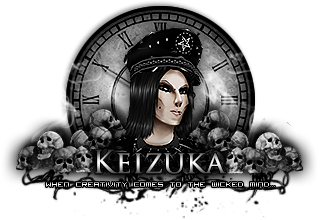 If you like my work and want to give me some support, please, feel free to grab my banner code to your HP. You don't need to ask me permission to pick it up. Thank you in advance! :)
From deving to meshing, I create almost a bit of every kind of product on IMVU. I enjoy making stuff that I've never done before. I like to keep my work between the lines of dark industrial clothing, furnitures, derivable meshes and, recently, skins.
Check the Home section for the latest updates
Keizuka Supports
It seems Photobucket fucked it up. I'll have to gather all support banners again.
If you wanna have your banner in here, send me a message